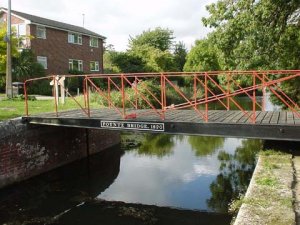 Padwick Bridge formerly at Hunston was rescued by the Sussex Industrial Archaeology Society, moved here, restored and installed on the remaining installation of the former Padwick bridge, located south of Chichester Canal Basin.

500 metre west is Manhood (or Cashers) Lock (SU837010) this is the second of the two locks and is now use to control (using a weir) the water level in the canal. The canal at this point follows a slight ridge known as the Manhood Peninsula. The Locks and Bridges strangely took their names from sponsors of the canal, this lock was known as Casher's Lock.

Egremont bridge (SU829010) this swing bridge was destroyed in 1941 and thrown in the canal! This along with all the swing bridges on the canal it was made of cast Iron. A few pieces survive and are laying nearby in the grass by the replacement steel foot bridge.

Salterns Lock (SU826011) This the Seaward Lock from Chichester Harbour and the entrance to the canal. It is in full working order and is notable that one set of wooden lock gates (Seaward end) and Cast Iron gates at the canal side. Its main use (infrequently) is for boats to reach a limited number of mooring along the first half mile of the canal.

Find out more information on canals in the Sussex Bookshop...

Return to the Sussex Waterways Home...


Return to the Sussex Main Page...